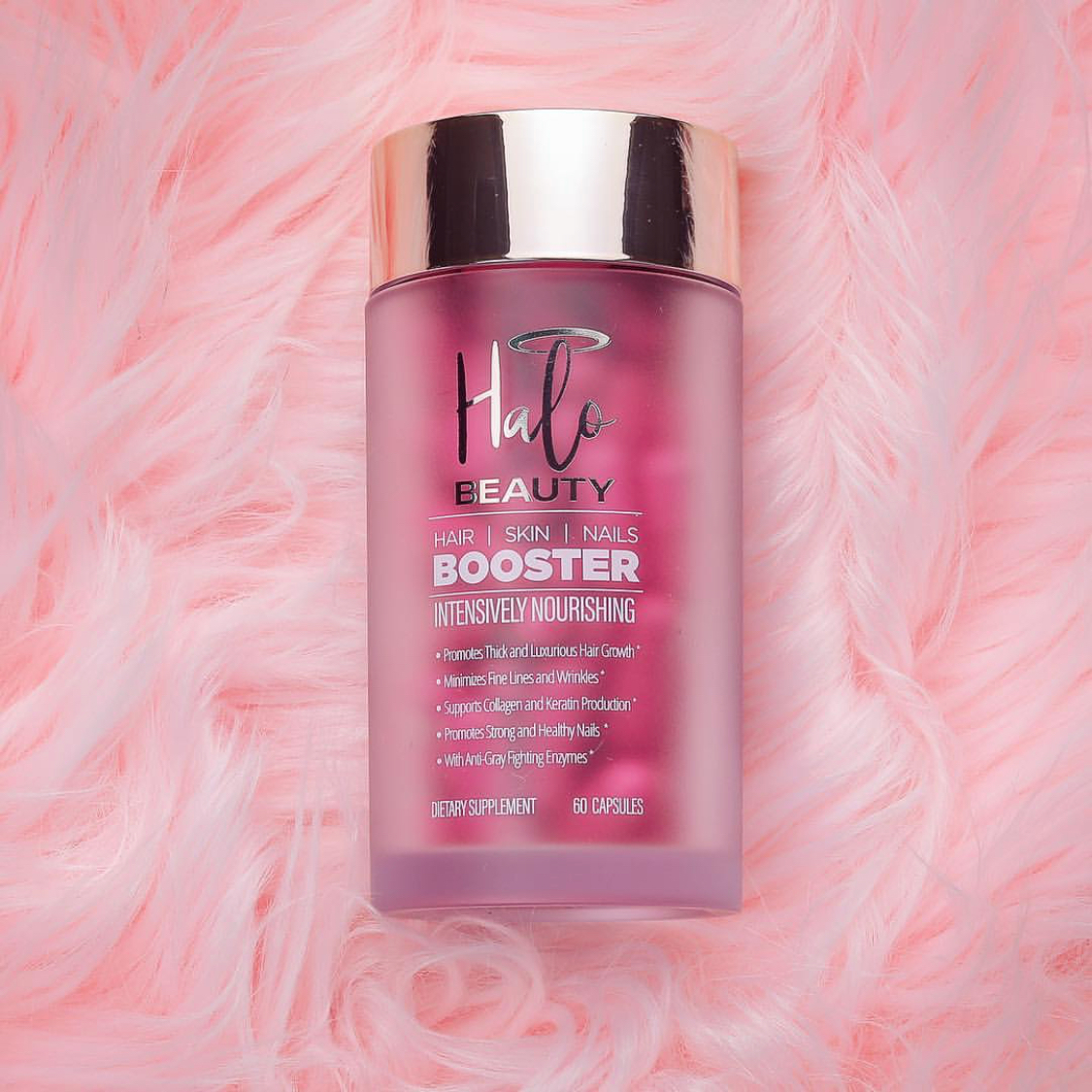 Hair, Skin, & Nails Booster (30-Day Supply)
Product Description
Promotes Thick and Luxurious Hair Growth*
Minimizes Fine Lines and Wrinkles*
Supports Collagen and Keratin Production*
Promotes Strong and Healthy Nails*
With Anti-Gray Fighting Enzymes*
1 bottle = 60 capsules, take 2 capsules per day.
Q: What will Halo Beauty's Hair, Skin and Nails Booster do for me?
Its clinically proven ingredients will deliver longer healthier hair, stronger nails, and smooth hydrated skin with diminished lines and wrinkles.
Q: Is Halo Beauty suitable for everyone?
We are suitable for all ethnicities and types of hair over the age of 18. If you have a medical condition, are pregnant or nursing, please consult with a qualified healthcare professional before taking our product.
Q: Do your vitamins contain Gluten?
No, we are proudly Gluten-Free and have no wheat by-products!
Q: Do your vitamins contain Soy?
No, we are proudly Soy-Free!
Q: Do your vitamins contain Sugar?
We don't think you need a spoonful of sugar with your vitamins, we are proudly Sugar-Free!
Q: Are your vitamins Vegan?
Most capsules are made of gelatin (animal by-product) so we formulate with the finest quality vegetable capsules in the world and our beautiful pink color is achieved without using Carmine (crushed beetles) or any other insect or animal by-product.
Q: Are your vitamins Cruelty-Free?
Many of our competitors use by-products obtained from various animal body parts like shark cartilage, north atlantic cod and pig liver. We do not test on animals, and our formula contains no animal parts or by products whatsoever. We even formulate with a veggie capsule and our beautiful pink color is achieved without Carmine (crushed beetles).
Q: How often should I take Halo Beauty Hair, Skin & Nails Booster?
For best results, you should take two capsules daily.
Q: Do I really need to take two pills per dose?
We have so much good stuff in our formula, that it takes two capsules to deliver a therapeutic dose. We have seen no evidence that taking less will work and likewise, we've seen no benefit from exceeding the recommended dose of two capsules per day.
Q. I hate taking pills, can I empty the ingredients out of the capsules?
Yes. There are many people who have difficulty swallowing pills, you can always open the capsules and empty them into your food or drink of your choice.
Q: What if I miss a few days?
You won't lose all of your benefits from missing a day or two, but if you want the best results, it's important that it's taken regularly.
Delivery
This item is now available on PRE-ORDER basis. Pre-Orders close every Friday. ETA is 2 business weeks after that.**
Once your order has arrived - please allow at least 2 days for us to process your order. Once your order is shipped, we will send you a shipping confirmation email with a tracking link and number to trace your parcel. Shipping transit times only start to run once you are provided with a tracking number. Please allow at least 24 - 48 hours for your tracking number to appear on the system.
**Subject to change without prior notice.
Customer comments
| Author/Date | Rating | Comment |
| --- | --- | --- |